It's actually a big problem that's been covered relentlessly across Australian media – a mysterious dip in the number of young Australians willing to pursue a career in science, technology, engineering and mathematics (or STEM for short).
The reasons for this wider decrease in interest from Australia's next generation are a nebulous assortment of theories, blame games, territorial matches, and sometimes just plain old excuses like "Aw maths is too hard!" – a whingy direct quote from yours truly who instead defiantly pursued a professional writing career!
Kidding aside, a shortage in active STEM talent in the workforce poses some big question marks in what Australia's future might look like. The numbers alone offer a grim premonition as the ACT government has estimated that there would need to be 11,000 new cybersecurity specialists within the next decade. With increased cyber criminal activity ramping up, which poses a significant threat to government infrastructure, a new and specialised force of experts is needed to hold the line.
While young people, in their hearts, might be more interested in taking a direction that favours a more "Faculty of Arts" direction, there are many others who may possess the talents needed to jumpstart a career in the digital space, but they simply haven't had their shot.
And according to our guests in this 5 Minutes With, this next generation of would-bes should take the bold leap into cybersecurity.
That's the basic guidance from member of Global Research and Analysis Team (GReAT) at Kaspersky Lab Noushin Shabab, and AppSec Consultant for PS&C Group Negar Shabab, who have spoken to GovNews about their unique point of view.
Identical twins, their vision for a more cyber savvy future for Australia is just as alike. With their niche in reverse engineering, their background in attending a special school for 'whiz kids', degrees in the IT engineering space, and career starts that'd make any other senior digital sage envious – they're laying a high benchmark for Gen Z to aspire…
What are your big plans for Stay Smart Online Week*? Any surprises in store?
Negar: In the Stay Smart Online week, The CySCA competition was recently held in Australia. In preparation for CySCA, RMIT University had organised a few technical workshops for their students. We had a workshop in Reverse Engineering and helped a group of passionate RMIT university students to get prepared for the challenge. I hope the surprise comes from the outcome of the competition and the experience these students had in CySCA.
You've identified a significant shortage in cybersecurity talent, what's the reason for this gap? Are youngsters being properly encouraged to enter career paths in STEM? If not, where are they all going?
Noushin: Technology is growing fast these days and it means that there is a huge demand for specialists in different areas of STEM all around the world. Unfortunately, the skill shortage was not being identified until recently. Only for the past couple of years, there has been efforts from governments, private sector and also individuals to address this issue and shorten the gap by encouraging new generation to enter this area, however there is still a long way to go.
What do you think are the potential consequences if this talent shortage isn't addressed?
Both: Technology won't slow down or stop. I believe that if a society fails to address the skill shortage properly and on time, it will left behind by the others who manage to keep up with technology's speed.
Enjoying this interview? Sign up for more! eNews Signup
What are the big problem areas in cybersecurity for Australian governments, local, state and federal that you've identified?
Negar: It's been only 2-3 years that Universities in Australia started to offer cyber security degrees which shows that we still don't have enough Australian professionals in this field. It's very important to open graduate roles and internship positions within government and also in  private sectors instead of only looking for past work experience in applicants resumes when hiring. Apart from the graduates, there are also many professionals in cyber security which come to Australia from other countries. However in most of the cases, Australia fails to engage their expertise in the market. In my opinion the solution for this problem is to encourage the government sector and also private organisations to stop looking for local work experience and instead try to look for relevant skills in the candidates.
Due to inefficiencies in sluggish procurement processes, Australian governments have a habit in falling behind the trends – what do you recommend for governments to stay on top of cybersecurity hazards?
Negar: I can only put a strong emphasis on changing the way government works in hiring cyber security professionals. Again, having more graduate roles and internship placements to be of importance and not merely looking for local work experience.
About yourselves, you attended a special school for whiz kids – I have a mental image of an early episode of The Simpsons where Bart found his way into a 'genius school' – what does it take to qualify for a school like that?
Noushin: The school we previously attended had an entrance test. This test consisted of math puzzles and science related questions. As it was designed specifically for primary school students, it didn't have very technical or advanced scientific questions. However there was a focus into understanding the fundamental ideas of mathematics and other sciences.
______________________________________________________
*note that Stay Smart Online Week has already passed upon publication of this interview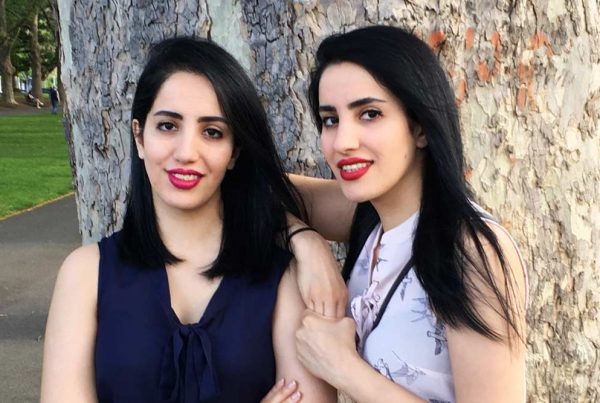 How should Australia fix the cybersecurity talent shortage of the next generation? Find out here!