Marketing products, goods and services to the public sector requires a radical shift of thinking from the traditional promotional tone of voice used generally in business terms.
The key to marketing to the public sector is to think like a government officer. Take a moment and consider the hundreds, perhaps thousands of tender applications to resolve deficiencies in government.
Australian public servants who operate in procurement have a big responsibility. A task of not only following government's policies and strategies, but also seeking assistance from private sector vendors who offer products and services that meet a certain need.
A core responsibility of government procurement officers is identifying the problems and finding the companies that are capable of offering or developing a solution that fits that requirement.
For example, procurement processes typically begin with a background.
A federal government body like the Department of Human Services (DHS) conducts an internal audit, and the final report identifies a need or deficiency within its programs or agencies, and will recommend a stronger ICT system in order to handle bigger and faster data loads to make it more efficient.
At that point, the Department's Chief Procurement Officer will be handed the reigns to release a Request for Tender (RFT) through AusTender, the federal government's online procurement notice board.
When these notices go online the tender is open for applications from companies with a specific skillset.
Companies applying for these tenders will want to stand out from their competitors. To achieve this, they should include as much background and information as possible, including case studies, references, recommendations and other important elements.
In fact, treat this process like a job interview, marketing your best assets to government.
If you have any published articles that help demonstrate how your company is a leading authority within the field, it is highly recommended that you attach these to your tender applications.
How does government market itself to the community? The public sector, specifically local government, uses various methods to communicate to the community and some do it very well. Clover Moore is a community advocate, a champion for progressive policies and the longest serving Lord Mayor of Sydney.
Here's an effective marketing campaign from Clover Moore's office illustrating a strong and clear visual design connecting to local voters prior to an election. With just a simple call-to-action READ MORE / SHARE message and only 38 words. Well done Clover!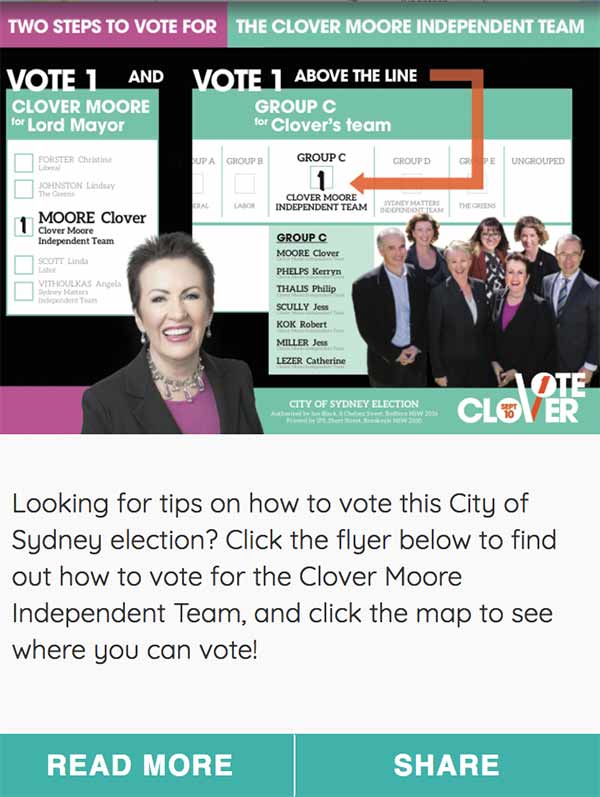 Sparking a reaction needs a planned and stimulating campaign. The greatest success of Pokémon was not the original idea but the myth and the miracle of their communication and distribution plan.
You can create a highly effective and powerful campaign using the KISS marketing principle, see my previous article, More than a KISS – marketing to government made easy.
Here are some helpful tips to gaining the most out of your published articles. The key here is to turn a single article, specifically dedicated to public sector into a powerful direct marketing campaign.
Ten helpful tips to turn a single published article into a powerful marketing campaign.
Your Newsletter(s)
Published articles from a leading authority, specific to an industry you want to target creates an association of expertise – priceless! So share share your published article(s) in your business newsletters.
Your Website(s)
Sharing your published content will build awareness as well as a strong level of creditability with your clients, peers, members and or associates. Post a link on your website to your article located from the publisher's website. Connecting you with a leading source of authority and creditability.
Promote your corporate interview(s)
Publishers may provide partner content in the form of corporate interviews, and if they do its certainly a prime opportunity to position yourself as an expert. Providing you with an opportunity to demonstrate your insights, perhaps an analysis of the industry you are operating within or draw attention to a major project produced by your firm. In today's information loaded marketplace, standing out of the crowd successfully needs a strategic plan. Work with a specialist writer who is skilled in the art of transforming an interview into a highly informative and compelling read. Then promote your corporate interview(s) – by simply posting a link to on your website, or through your social media channels.
Content Links
Direct your members to your content pieces by using the links supplied by publisher to directly locate your article easily.
Social Media
Socially sharing – what's goes around come back around, so get active! Incorporate the publishers social handle with posting or linking your article.
Twitter & Retweeting
If you tweet about your published content, remember to include the publishers' hashtag # with your tweet, they may just retweet YOU!
Printed material
Once you get your article published, print off a few copies and mail them to your clients. If you are wanting to include the publishers masthead or logo within your printed materials, be sure to check with them first. The amount of infringements that could have simply been avoided if a copyright checking process has been included. If you're using an image from a third party, ensure to check that it's flagged under Creative Commons, with a distinctive "CC" emblem.
Referrals, Testimonials and Endorsement
A good business usually gets a significant amount of referrals, so why not ask your best clients. Keep it relevant and in context with what you are communicating, and always be sure to ask if you can use referees full name and title in the copy.
Score
It's necessity to track your performance. Publishers will track the performance of all articles to see how well they have performed, not only on a daily basis, but also on a timed analysis. If you want to know how your article is doing to improve your marketing results, ask your publisher about the click through (CTR) and open rates (OR); terms often used in measuring performance. Email marketing has one of the highest returns on investment of all online marketing channels and if you are calculating your own statistics be sure to enter the number of emails that were actually sent and exclude any bounced email addresses. Publishers specialise in this form of work, so trust their guidance and advice when assessing the numbers and audience response to certain varieties of content.
Timing
Research tells us we have a few seconds in order to gain the attention of a viewer. When sending out your e-news, marketing emails its important to consider not only the time of day, but also the day of the week. Test to see if the the time and design has an impact, and evaluate the reaction it created. Was it positive? Did it spark the reaction you are wanting to achieve? Was the email opened? Timing is everything – so ensure you seize the moment successfully!
And lastly, when in doubt seek professional help within the area you are targeting. Public sector marketing is vastly different to consumer marketing, so seek those who can advise a strategy that is best suited to achieving the results intended.
Part three of marketing to the public sector. See our earlier piece on keeping your marketing simple.
eNews Signup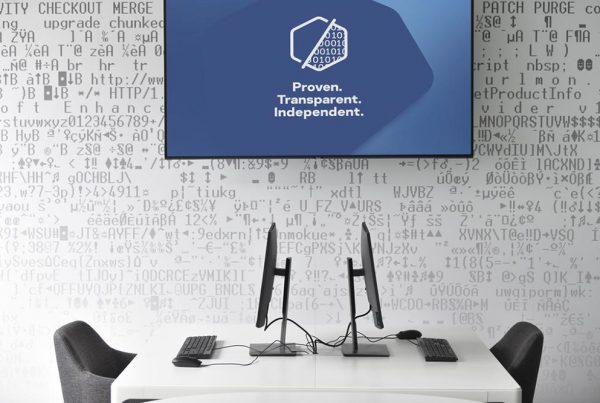 The great migration, capping off 2020 with a crossborder bang for cybersecurity.