The challenges for government departments to create an effective solution to a problem that emerges through circumstance are enormous. This is why they turn to private sector companies to deliver products and services that will help in fulfilling the government's task in offering greater service delivery to the community.
One example of this process turning out to be a success is Service NSW's work with Australian professional services company, ICM Consulting, which delivered a highly effective payment system when the New South Wales government consolidated its frontline services in vehicle registration, births, deaths and marriages registration and fair trading.
But there's more than just signing a deal between a government body and a company to create a reliable product, as ICM Consulting's chief executive officer, Yair Iny explains. It's a highly involved process that requires both parties to rigorously assess the client's needs, building a solution that's appropriate, and customising it to their specifications.
And speed and accuracy are ICM Consulting's value proposition in completing a project, and getting it right is its main priority, as Mr Iny underscores to GovNews.
Mr Iny himself is an experienced expert in business and ICT transformation, who has worked in this capacity across a variety of industries with extensive financial experience.
As CEO of ICM Consulting, his motivation is to turn business ideas into reality by implementing cutting-edge digital technology that fuels the biggest disruptors on the planet.
GovNews speaks to Mr Iny to gain a clearer insight into the process of delivering these highly desired solutions to public sector organisations.
Q: What inspires you about the work you do at ICM Consulting?
A: What inspires me in the context of ICM Consulting is meeting with clients and being given the opportunity to solve their problems. We have a variety of clients, and I think for all of them, we've done a good job and the team will back what we've done for the clients and they can see it working and we take pride in providing their solutions and seeing them in the field working. If you take Service NSW for example, the fact that I can talk to anyone in New South Wales and say "you know the system you use to pay your rego, that's a system that we built", and that's a great feeling for us. Being given the opportunity to build solutions, to work with the clients and give them some advice and bring some innovation into how they were thinking of solving the problem – that's what motivates me.
Q: Governments are looking for innovative ideas from the private sector to help improve their service delivery – what is the special service that ICM Consulting offers that's useful to a government department or council?
A: There's a multitude of specific things. There's innovation in the way services can be delivered in terms of different ways users can access with apps, with things that government tends to be lagging behind the marketplace, in the way that we can roll out solutions on the cloud and help out with those areas. And just in general, using more innovative technology to solve problems faster and achieve the results quicker and cheaper. At the same time when we talk about innovation, one of the things that we do best with our clients is when we work with them, it's a more of a technology partnership, rather than them saying "this is something that we need, and we need somebody to write it". But instead, it's talking to the clients and understanding their actual business problem. We've got a very large breadth of experience in seeing many different systems, and we can come up with ideas that the clients haven't even thought of. A case in point is Service NSW with the initial digital solution that we built, along with Pandora and most of our other clients. We get to work with clients in understanding what they're trying to do and what is the problem they're trying to solve, rather than "this is the solution they want built", then there's a lot of innovation that can come from that, such as bringing ideas and solving things in ways that they've never even thought of solving.
Q: Public sector organisations have a wide variety of vendors who offer software development solutions, what is the value proposition that helps ICM Consulting stand out from the crowd?
A: It depends on the type of engagement. If we're talking to a client in government or the private sector, and we're engaging at the level of saying "we have this business problem, let's discuss the best way to solve it," and then we build a solution, I think in that sense we offer a significant advantage because of the fact that we specialise in building solutions rather than providing software development capabilities. Most of the work that we do is offering solutions, many times as Software-as-a-Service (SAAS), custom-built for the clients. As a result, we're really experts at designing solutions, using an array of different technologies available in the market and bring them all together. Sometimes you think about other SAAS solutions bringing all these different things together and making a tight, directed solution for the client, and in some cases actually running it for them as a SAAS. That's where our specialty is most expressed.
Q: What was the basic process in ICM Consulting's work with Service NSW? How did you develop a solution for them?
A: When we began working at Service NSW, we said "let's have a look at the systems you have up, I select the parts we need to focus on and we build a replica of those systems on our own RCM cloud". Obviously without the private data. Then we were able to develop the solution for them and get their delivered bills much faster, because we didn't have to depend on their infrastructure. We were able to build, tear down their systems, test systems and achieve a solution much faster for the client. And that's the same with all of our clients, we're able to build a solution much faster than they would have expected. Case in point, for Service NSW, we built the initial digital solution, which is allowing a customer to pay their rego with your credit card over the internet. Later it was expanded to service centres, but that initial digital solution came in at about three months at a cost of $200,000. This is basically the same internet solution that everyone would be using in NSW over the last few years to do all of their vehicle registration. That's been happening in the system we built for $200,000. When you put that into perspective, that's a ridiculously small amount of money and a very short time getting that into production.
Q: The methodology ICM Consulting values the most is speed and accuracy?
A: The outcomes of the methodology is speed, which translates into cost effectiveness, accuracy, and also an understanding of what needs to happen for these large enterprise systems. A lot of people in our company have a very strong background in banking. I've worked in financial services consulting, so we also understand what you need in a system to be able to handle large transactions, large amounts of transactions, be scaleable, be safe in terms of its data, and then merge that with methodologies and technologies we can use to get these things happening fast. It's not just about speed, it's also about doing the right thing, and ultimately speed translates into being more cost effective because it costs less to develop a solution. That means if a client is working with us on a time and materials model like Service NSW did, they get the solution faster, and it also costs them less. If they're working with us on a fixed price model, which most of our clients do, we're able to provide a cost-point for their solution.
More is to come in our chat with Yair Iny, so stay tuned!
View ICM Consulting Profile
ABOUT ICM CONSULTING
ICM Consulting gives organisations access to the advanced tools that power leading disruptors – matching the tech to the strategy, getting it built and providing the people to do it.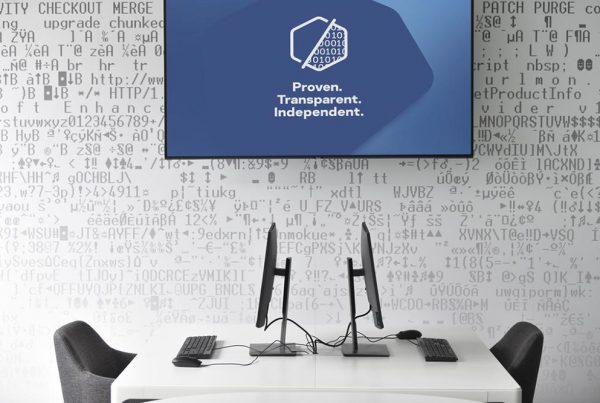 The great migration, capping off 2020 with a crossborder bang for cybersecurity.