When modernising meeting rooms, most companies decide to replace their existing projectors with flat panel displays. That's an easy choice, as resolution and brightness are higher, installation is easier, and maintenance costs are lower. It's a technical evolution that simply offers a better ROI.
But what about interactive flat panel displays (IFPs) that also enable touch interaction? Are they beneficial at all, and what are the relevant criteria to select the right one? Before answering these questions, let's step back for a moment and look at typical problems that many knowledge workers face when attending a business meeting:
Before
Presentations Before
Many meetings start with a PowerPoint presentation. That can be a very boring exercise, as all the content is pre-canned, and there is little room for real engagement with the audience.
Whiteboards & Flipcharts Before
These tools are great to visualize any kind of charts and ideas. But both have their drawbacks. On a whiteboard, you can erase your ink to adjust, change or optimize your drawing. But you just have that one page. If you need another one, you need to erase your previous content. On a flipchart, you have many pages, but less space on each page. And no ability to erase your ink. Besides those limitations, who hasn't experienced a meeting where you ran out of ink, or flipchart paper, or both?
Meeting Minutes Before
Often there is a person who takes meeting minutes, captured in his or her paper notebook. And we all know what can happen then: when reviewing the minutes once shared days later, you realize that important aspects of the session are missing, or your contributions were misunderstood.
Document Reviews Before
Some employees prefer to print the relevant documents before attending a meeting and then pencil changes directly onto the print-out. Before sharing with the other participants, these documents must be scanned, which means additional time and effort. And again, if you are one of the other participants, you don't have good visibility of the actual mark-ups during the meeting.
Remote Attendees Before
Many meetings have remote attendees who are brought in via a spider-phone or videoconferencing system. They often feel like 2nd class participants, as the content from flipcharts, whiteboards, print-outs and sometimes even the presentation slides are not visible to them.
When combined with the right software and wrapped into a natural, intuitive user experience, an IFP becomes a Collaboration Tool that can mitigate or even solve all the above. So, the actual touch feature mentioned before is just a secondary technical aspect.
After
Let's have a look on how your meetings can evolve with a proper IFP-based Collaboration Tool:
Presentations After
By simply picking up a pen, you can highlight and write directly onto your PowerPoint slides. This makes your presentation more dynamic, and you can even add audience feedback on the fly. All mark-ups can be saved as part of your PPT file, and sharing it by email just takes one click at the end of a meeting.
Whiteboards & Flipcharts After
An IFP can also act as a digital canvas that combines the benefits of both whiteboard and flipchart. While having an unlimited number of large-format pages and endless ink, you can still erase areas to adjust or update your drawings. This is especially valuable for all kinds of working session, e.g. when creating a complex flowchart or mind-map.
Meeting Minutes After
It's good practice to take meeting minutes directly on the IFP's digital canvas. This way, the group can directly validate what was captured, and adjust if needed. It also makes the minute taking process more collaborative and "democratic," as anyone can simply pick up a pen and contribute or change.
Document Reviews After
With the right IFP-based Collaboration Tool, there is no need for print-outs anymore. Like in PowerPoint, you can also mark-up other common file formats like PDF, Word or Excel. As a positive side effect, other team members can instantly validate any mark-ups that are done during the meeting, and contribute themselves – no need to change chairs or hand over mouse and keyboard. At the end, the reviewed documents can be saved together with their mark-ups, and shared by email with a single click.
Remote Attendees After
Team members who are remote can now fully contribute to a meeting. Instead of just listening and talking, they can see what is written on the digital whiteboard, and even co-create over distance.
In summary, an IFP can be much more than simply a display with a touch feature. When combined with the right software and wrapped into a natural, intuitive user experience, an IFP becomes a Collaboration Tool that can save time, unlock productivity and improve meeting results. Learn what you should consider when selecting a touch display for group collaboration in the following article.
Read more from SMART Technologies about interactive flat panel displays.
Tobias Windbrake works as Collaboration Consultant in the EMEA & APAC region. He joined SMART seven years ago, initially managing SMART's training business. Based on this experience, he strongly believes in ease-of-use and simplicity as an essential factor for technology adoption – the core requirement for ROI. Tobias holds a Master's degree in Computer Science, and was running his own software company before joining SMART.
ABOUT SMART TECHNOLOGIES
SMART Technologies is a leading provider of technology solutions that enable inspired collaboration in schools and workplaces around the world by turning group work into a highly interactive, engaging and productive experience. SMART delivers an integrated solution of hardware, software and services designed for superior performance and ease of use, and remains a world leader in interactive displays. Specialties include – Interactive Whiteboards, Interactive Displays, Student Response System, Wireless Slates, Interactive Learning Software, Document Cameras, Collaboration, Interactive Projectors.
Transforming how people work and learn, worldwide.
• 3 million classrooms worldwide
• 5 million software downloads annually
• 200 Fortune 1000 customers
• 300,000 SMART lab users
• 100% year-over-year revenue growth in interactive displays
• Working in partnership with Free the Children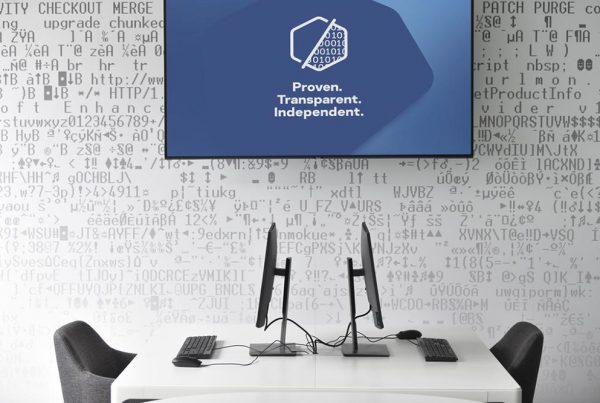 The great migration, capping off 2020 with a crossborder bang for cybersecurity.