Partner Content
When the clock is ticking, you're bound to feel the pressure to deliver.
And that's often a day in the life of any government organisation or a company that's working to carry a project and finalise it at the designated time frame.
It's a fundamental and critical component in the relationship between client and vendor, where a promise is inked that the delivery of a new payment system, for example, will be completed according to the calendar.
Usually this process takes weeks or even months, depending on the scale of the project, the number of developers are assigned, how much work needs to be done from scratch in a 48 hour time period, and what budget is allocated.
But try accomplishing all this in just two days.
That's what Australian professional services consultancy, ICM Consulting set out to do recently at the 2017 GameChangers Summit in Sydney.
In a bid to demonstrate its unusual but effective methodology, ICM Consulting set out to showcase its step-by-step project building to a larger public forum.
And the stakes were high as ICM Consulting developers were under the pump to deliver a project to a deadline that would make even the most hardened and experienced professionals sweat.
ICM Consulting is a locally-based company, which has held down healthy relationships with a number of government clients including Service NSW, the NSW Department of Transport and the NSW Department of Education, among others.
Its work for Service NSW was a project that was absolutely necessary in the state government's consolidation of frontline services such as the Roads and Transport Authority (RTA), which eventually became the Roads and Maritime Services (RMS), the NSW Registry of Births, Deaths and Marriages and NSW Fair Trading.
Such a project under normal circumstances takes time, from consulting with the client to create a proof of concept, addressing the problems identified by the client and finally building an operational system that can be implemented.
It's a process that ICM Consulting was keen to demonstrate at the event in a significantly condensed timeframe that showed an audience of about 400 attendees how a project of such monumental scale can be developed and delivered in such a short space of time, which is one of the company's unique points of difference.
Basically, the company aimed to replicate a process that it performs with clients on a regular basis.
As part of what the company dubbed as the 'Total Tech Challenge' at the event, ICM Consulting worked with an existing client to build a financially-based system that makes bills viewable through BPay View.
ICM Consulting chief executive officer Yair Iny supervised his development team of three at the event, telling GovNews that after the incredibly compressed schedule throughout the first and second days of the event, the developers used the company's proven methodologies and approaches and finally presented a working solution.
Mr Iny was proud of his team's ability to deliver a solution that was applicable to a client's needs, especially in such an unprecedented time crunch.
Understandably, the team wasn't able to finish every single item needed on the list, but Mr Iny said the team completed about 95 per cent of what it set out to accomplish, and "we certainly addressed the key business problem for the client, which is now going to be rolling out that actual solution and taking it to his potential clients".
Mr Iny said the attendees found it impressive that you could build a solution in such a short amount of time.
"We had a lot of people come in and give us ideas and they liked being able to interact and to see their ideas brought to life," Mr Iny said.
He said they liked just talking to the developers and seeing their perspective because it was interesting.
"And from an event perspective, it was interesting for them to see something a little bit different, it wasn't a keynote speech or something like that, it was something very different that's not usually done, there was more risk and chance of failure and we had a very good response to that."
View ICM Consulting Profile
ABOUT ICM CONSULTING
ICM Consulting gives organisations access to the advanced tools that power leading disruptors – matching the tech to the strategy, getting it built and providing the people to do it.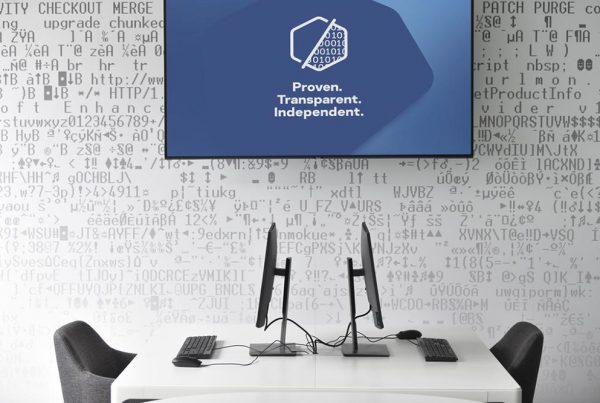 The great migration, capping off 2020 with a crossborder bang for cybersecurity.